Why XEO
Startup and Growth Phase Technology Partner

coaching . coding . clarity
XEO means: "Innovative ideas that have yet to be discovered; All knowing of what is yet to be discovered." (urbandictionary.com)
XeoDev partners with forward thinking companies on disruptive projects and innovative business models. A solopreneur who wants a strong technology team to expand their industry influence is our ideal client. Our core strength as a software development agency is clarity - world class web and app technology that is simple to use. We are a mini accelerator providing development, lean coaching, project management, testing, marketing, and fundraising.
of US entrepreneurs start their business at home
of small businesses are funded by personal savings
of new jobs are created by startups and young companies
The Solopreneur Chef
How should a world class chef build a mobile cooking app:

a) stop cooking and become a tech CEO?

b) keep being a chef and hire XeoDev?


I choose Xeodev


Orlando Florida Web and Software Development Company
Located in Orlando Florida, XeoDev builds web and mobile technology for a businesses both big and small. Many of our clients got started with only an idea and wanted to build out an MVP. It is a joy to see those sites and apps now being used by live customers. Our mature projects are transitioning from platform to ecosystem by increasing usability and connecting with more partners through APIs.



On the business side we apply Lean Startup principles and Agile Development practices. We manage projects with Trello to quantify and measure action in real time. On the technical side we build on either the preferred stack of the client or on a Laravel PHP framework providing secure REST APIs to mobile apps and admin panels. We also build Wordpress and Drupal marketing sites and manage digital media and email campaigns.



A breed apart, our agency offers both business coaching and professional services as well as coding and technical services.

Please choose us for your website and mobile app needs
"Xeodev made our product "Mr. Sorter" amazing! Xeodev's creative use of the most modern programing techniques linked with their creative thinking is simply genius. David and his team have taken our software solution to a level of sophistication and functionality that we did not even dream of when we first started. I would recommend David and Xeodev to anyone looking for an inspired software package."
- Mark Ahrens, CEO Landmark Software
"I worked with Xeodev on a website project that was a bit complicated, for my Coptic Basketball Tournament, in 2014. They did a great job listening to what I was looking for and delivered it in a great time. I would hire Ramy and his team again, and I highly recommend his service."
- John Mansour, Director of SUSL Tournament
"What sets XeoDev apart from others is their attention to detail and their responsiveness. Hiring tech help is often a frustrating experience fraught with miscommunication. Not the case with XeoDev - emails are always answered quickly and they make time to take my calls, even when I know they have a lot of other projects going on simultaneously. In addition, it's refreshing that XeoDev speaks "business" just as well as they speak "tech." They realize that their services are an investment that businesses expect to earn a return on and they help keep an eye on the bottom line. I would recommend XeoDev without hesitation."
- Patrick Mathern, President of 23 Degrees Consulting
Some Favorite Technologies
That we use every day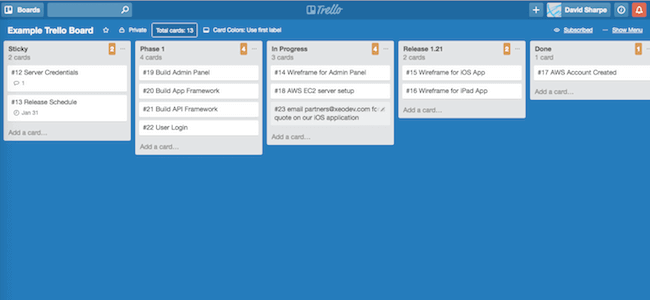 Clarity has a direct correlation to both morale and business success. So we chose Trello as our project management tool when we opened our agency. Over the years we have refined our trello process to maximize agile velocity and minimize management overhead. Our innovative use of stacks and checklists clearly communicates scope changes directly to all stake holders in real time. Join is in our giant game of hot potato.
Security and Scalability are key to choosing a hosting provier. We are predominantly an AWS agency because they consistently over deliver at affordable prices. As a bonus, AWS constantly adds new services and simplifies existing services. We are currently working on our AWS Certified Solutions Architect certification so that we can deliver even better solutions going forward.
Reusability creates recognition. Font Awesome is one of our favorite things on the web today. We were an early supporter of the wildly successful Font Awesome 5 kickstarter as you can see by our font awesome mug. Now with thousands of icons that are all easy to size, color, rotate, stack and subset. This tool radically simplifies the design and deployment process and improves usability.